Following the newsfeed about the bicycle market in 2016, one can not help to notice that the overall trend of the bicycle market is rather downward. Major players such as Shimano, SRAM and Specialized announced declining sales, closure of production facilities and layoff of employees. The trend is mitigated, in particular in Europe and even more so in Germany, by growing sales of e-bikes. So how will the market look like in 2017 for road racing bicycles?
In order to answer this question, we first needed to know how big of a decline we will most likely to see in 2017. As road-racing bicycle specific data isn't easily available, we took a look at one open source to make an estimated guess: Strava, or more specifically, the Festive 500 challenge.
Strava has established itself as the major web application for recording of road racing training and competition rides, double-acting as a kind of second tier social network.  A high proportion of road racers record their rides on Strava in order to keep track of their progress and share their achievements with friends and foes.One feature of Strava are the so called "Challenges". Riders are asked to do a certain amount of kilometers or elevation meters between defined dates. If they achieve their goal, they are presented with virtual badges on their Strava profile. This provides additional motivation to many riders.
One of the major challenging events on Strava is the Festive 500, sponsored by the cycling apparell maker Rapha from the UK since 2013. The goal of the Festive 500 challenge is to ride 500 km between Christmas and New Year and each year tenthousands of riders from all over the world are registering for the challenge. The data of Festive 500 provides therefore an easily availabe, signficant and  representative data sample of global road racing activities. This data was used for the following analysis; we assumed that the Festive 500 data is more or less representative for global road racing bicycle markets.
Where are the major road racing markets and how did they develop?
This year about 83.000 riders registered for the 2016 Festive 500 challenge. This represents a 14% YoY change which is impressive; however far below the growth rates of 2015 and 2014 which were 49% and 54% respectively.
Even if a rider registers for the challenges, it doesn't mean that he a) records any mileage on Strava or that b) he achieves the goal of 500 km. Compared to the years before, the growth of active riders (those who recorded mileage, regardless of the length) grow only by 12%. However, those who choose to attend rode harder than those in the previous years, therefore the number of riders who rode 500 km or more grow by 32%.
In conclusion we see that Festive500 and therefore the road-racing market, has lost significant momentum and will flatten out in 2017 or 2018 latest. Strava can be seen as a "derivate" of the market development: First one buys a bike and starts to ride, then one discovers Strava. We assume that the growth rate of Strava is delayed, if compared with the road racing bicycle market.
This might however not be true for each global market. According to the Strava Festive 500 2016 data, about 2/3 of the global road racing market is located in only eight countries which are UK, USA, Australia, Brazil, Spain, Japan , Italy and Germany.
However, here we have to caution that Strava is not fully representative. First of all Rapha, the sponsor is a British company and despite being active globally, they will attract more riders in the UK, not only because it's their home market but also because of their association with Team Sky, the successful British road racing team. So we assume that the US market is indeed bigger the UK market.
Moreover, it is much easier to ride 500 km in summer, which is the case in the Southern hemisphere in December, than in winter. So we assumed that markets in the Southern hemisphere, such as Australia and Brazil are over-respresented on Strava.
Now if we take a look at some major market developments, we will see that active rider numbers for the US and Germany have even declined in comparision with 2015, while enjoying substantial growth in the years before; Japan is flat and the UK still enjoys a small growth of about 9%. In conclusion, market growth, if any, is not from the major markets any longer.
It is also not from countries which were earmarked for overall economic growth in the past (BRIC) or for the future (MINT). I we take a look at the first group of countries: Brazil, Russia, India and China we see that none of these countries, with the exception of Brazil of course,  have more than 300 riders in the challenge. China is particular disappointing with 100 riders, many of them not Chinese, but expats assigned to the country.
For the second group of countries, Mexico, Indonesia, Nigeria and Turkey, the situation is more or less the same. These countries do not possess developed road-racing bicycle markets.
Based on the Strava data there is ample evidence that global road racing bicycle sales will decline in 2017. This is in particular true for the major markets in Europe, the US and Japan while developing countries are not growing fast enough to replace the lack of sales in major markets.
The data also suggests a gowing number of hardcore riders, i.e. those who ride their bikes will do so harder every year; however many riders will also give up on their hobby and cycling itself will not attract many newbies any longer.
The consequences for the cycling industries and consumers
As always in shrinking markets one can expect a consolidation of the industry players. Most likely we will see this to start in 2017. Typically, similar to FMCG brands, bicycle brands evolve from smaller,entrepreneurial type of organisations to brands of a certain size and reputation (provided they become succesful), before they are purchased by bigger companies or conglomerates. A Good point in case is the recent acquisition of Pinarello, one of the last independent Italian racing bike manufacturers, by the luxury good LVMH group. Similar moves have happened in the past 20 years, e.g. the acquisition of Cervelo by PON (Owner of Gazelle, Santa Cruz and Derby brand), Viner by Planet X or Klein, Lemond and  Villiger by TREK. Accell, another exampe is a big Dutch sports company that holds the right of brands such as Koga, Haibike, Ghost, Winora, Raleigh, Lapierre and Atala.
So we assume that smaller and mid-size innovative brands, such as Colnago, Focus, Basso or Felt will be bought by sports conglomerates and loose part of their identity.
How will online-brands such as Canyon and Rose fare against brands that are traditionally sold by retaillers? Online brands rely on a certain size of sales so that they can support investments in IT, logistics and marketing as well as operation of large facilities. Canyon and Rose have reach a certain size which will alow them to survive through hard times, but many smaller brands have not and they wil struggle.

It will be intersting to see, if Campagnolo will survive this downturn of the market. Campagnolo's presence in the OEM market (that is, providing components to road bike manaufacturers for new bikes) is now almost zero with the exception of some expensive and small Italian brands. a newly introduced groupset, "Potenza" failed to make an impact. The company is relying more and more on the aftersales markets where it still offers an attractive portfolio of wheels (under the Campagnolo und Fulcrum brand). However in order to be attractive in the after salesmarket, a company has to offer more technical advanced products than those who are OEM-equipped. And here Campagnolo ist struggling, as they do not offer elecctronic shifting that is substantial different from Shimano, neither wireless shifting (SRAM eTap) nor even disc brakes or a good portfolio of wheels for disc brakes. What is left in terms of loyal customers who appreciate the image and the heritage of the brand, might be too less to keep the company afloat. And which competitor would like to buy he brand? Probably none.
When demand becomes less, prices will become lower is one of he universal truth of economics. We would assume that the same will happen for road racing bikes.
First of all their will be less investment in new innovations. The last thirty years since 1980 have seen massive disruptive innovation in road racing bikes, compared to the first thirty years after WW2. Most notably, we have seen the switch from steel to aluminium and then to carbon as the dominant frame material; the development of brake-shifter levers, followed by electronic and wireless versions and the introduction of disc brakes more recently. Everything else, such as lighter materials or more gears can be seen as incremental innovation and is of less importance.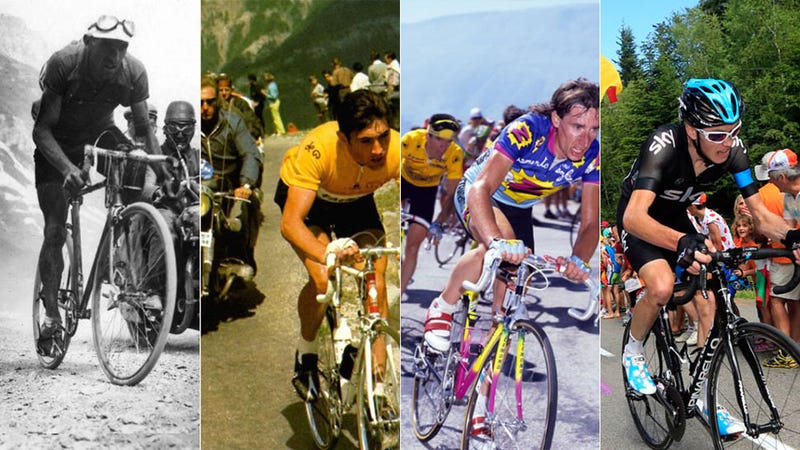 There is no less incentive for companies to invest in innovations; therefore product cycles will become longer again and oldproducts have a tendency for price discounts. Rather than increasing prices by bringing new products to the market, manufacturers will focus on cutting cost of existing products by moving manufacturing to low-wage countries with Vietnam, Cambodia, India and Pakistan now high on the list.
The party is over. We now need to clean-up the cellar.